10 Useful Life Hacks for Less the Daily Stress
We want to make things easier. From the hustle and bustle of our daily commute to the list of errands that we need to accomplish for the day we all wish for the convenience to get it done without all the fuss. But in the middle of all this we find that our keyboard has broken down, our earbuds are in an impossible tangle, and a long list of little things have joined together to make life just a bit more complicated than what we would have wanted it to be.
In our previous article we talked about ways to create better and more time-efficient work habits that will amp up your office performance. Today, we present you with 10 quick and simple "life hacks" that will increase your unique edge in the workplace. Discover new uses for your usual office supplies along with special keyboard shortcuts to make working a lot more entertaining and efficient.
1. Utilize the Windows Key
Most keyboards for both non-Apple laptops and desktops come with a designated "Windows Key" that can usually be found at the bottom row beside the Alt and Space Bar. If you are running a Windows Operating System (Vista, Windows 7 or 8, Windows XP, etc.) then these button combinations will respond and provide you with quick access to certain programs or functions.
Windows Key + Tab – Enables 3D browsing of all active windows and desktop
Windows Key + D – Minimizes all active windows and displays desktop
Windows Key + E – Displays Windows Explorer
Windows Key + F – Opens Search File window
Windows Key + R – Opens Run Dialog Box
Windows Key + M – Minimizes all Windows
Windows Key + Shift + M – Undo Minimize all Windows
Windows Key + U – Opens Utility Manager
Windows Key + L – Instantly Locks your Computer
2. Quick and Easy Browser Interface
Google Chrome, Mozilla Firefox, and Internet Explorer among other Internet browsers also come with shortcuts and key combinations that can activate special commands for your convenience.
Ctrl + Shift + N – Opens Incognito Browsing for Google Chrome
Ctrl + N – Opens New Browser Window
Ctrl + T – Opens New Browser Tab
Ctrl + Shift + P – Opens Private Browsing for Mozilla Firefox
Backspace – Returns to previously opened page
HOME – Moves to the top of a document or page
END – Move to the end of a document or page
3. Super-speed Gmail
As one of the major internet search engines available, Google.com has come to expand their services to encompass both email platforms and data management systems. The development of Gmail has come to complement the influence of Google.com and now provides email access to millions of users around the world. If you are one of the many users that utilizes Gmail then these shortcut commands can help you revolutionize your daily email endeavors. (Press Shift+/ to access the comprehensive listing. To activate the keys simply change the setting in the listing to "Enable".)
j /k – Navigates through messages (displays a thin blue line on the left side of each highlighted message)
o – Opens selected message
n/p – Navigates up or down a message thread
x – Selects a message and activates checkbox
l – Displays label selection for selected message
s – Adds a Star to selected message
!, e, and # – Transfers message to Spam, Archive and Trash respectively
c – Compose new message
r – Reply, (or reply to all with "a")
f – Forward message
(If you hold the Shift key while pressing one of these four keys the system will open in a new window.)
g+i – Opens Inbox
g+s – Opens Starred Messages Folder
g+t – Opens Sent Messages Folder
g+d – Opens Drafts Folder
g+a – Opens All Mail List
g+c – Opens Contacts List
g+k – Opens Tasks
g+l+[label name] – Opens specific label listing
4. The iPad and iPhone
The rise of technology has literally enabled us to access information at the touch of our fingertips. But like other operating systems, the Apple iPad and iPhone also feature shortcuts to amplify your user experience. (Enable keypad to access these functions)
F1 – Dim screen
F2 – Brighten screen
F7 – Back one song
F8 – Play/pause
F9 – Skip song
F10 – Mute
F11 – Decrease volume
F12 – Increase volume
⌘ + Space – Display a list of available languages; to choose one, tap the space bar again.
5. Nifty Notepad Diary
Tired of entering dates each time you make entries in your journal? Then this simple trick will provide you with the convenience of an automated time stamp for your .txt files. Add on-the-dot time and date registries for your Notepad files by typing .LOG (in uppercase) in the first line of the file. Now each time you open the file the Notepad program will append the current time and date to your text.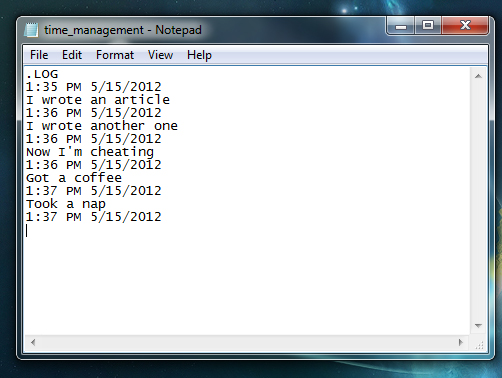 6. Use your spare to store cords and cables for travelling.
Other than protecting your prized sunglasses, these durable cases can be reused as carrying containers for your iPhone and gadget cables. Travel to your favorite destinations without the hassle of knotted cable connectors and earphone plugs.
7. Coffee mugs make an impeccable burrito holder.
Enhance your burrito dining experience with the use of collected gift and souvenir mugs.
Put a twist on your custom mug promotions with new and ingenious ways of utilizing your giveaways.
8. Use components as replacement for keyboard feet.
Don't bother getting I.T. or asking for a new keyboard from the Supplies Department (which might even go to your deductions tab: YIKES), just get a medium-sized binder clip and exchange the broken or lop-sided foot with one of the clip handles. This quick and simple fix will get you back on the business track in no time.
9. Use the same clips to manage your cables and organize your desk.
So you aced that keyboard repair but now you're left with a that's missing one handle. Then go for that "No Waste" approach and conquer the jungle of wires that clutter your desk space. Keep connector tips and cords at-hand for that on-the-go office interface.
10. Create a DIY phone stand.
You'd expect the binder clip to stop at #8 and #9 but this humble office supply simply gets better with a little touch of creativity. Snap 2 to 3 pieces of these clip binders together and relish hands-free viewing on your iPhone (or other smartphone) devices. If you're feeling crafty you can even combine different pieces to build your own custom designs.
Sources:
Best Keyboard Shortcuts
How to Use Windows Logo Keyboard Shortcuts
Journaling in .txt with Notepad
17 DIY Office Hacks to Make Work More Tolerable
The Best (Free) DIY Smartphone Volume Boosters
Master the New Gmail with These Tips, Shortcuts, and Add-Ons
Share this page